Vanilla & Patchouli | Earthy Soy Candle
A unique take on an old classic, this is vanilla, but not the sickly-sweet version that you know and (dis)like. A warming and luscious woody scent with hints of vanilla and white musk on an earthy base of sandalwood, cedarwood and patchouli. Once you try this heavenly pairing, you won't look back!
This candle is carefully hand-poured and hand-crafted with love and care in Adelaide, South Australia.

Sizes and Burn Time:
Large: 250g, up to 35 hours burn time.
Small: 130g, up to 24 hours burn time.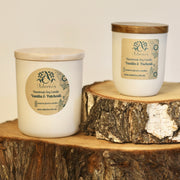 Vanilla & Patchouli | Earthy Soy Candle