Lavender | Organic Soy Candle
The Aroma: Lavender
Immerse your space in tranquility with our Lavender Bliss. Infused with a generous 10% of natural lavender essential oil, it fills the air with soothing and calming aromas. Perfect for unwinding after a long day or enhancing a peaceful atmosphere.


Amethyst Crystal Chips
Amethyst is known as the "stone of spirituality and contentment" and is one of the best stones for Meditation because it opens the Crown chakra to induce a peaceful mental state. Its calming effect is great for people suffering from stress and is also a stone that allows us to understand our dreams. It clears the aura and dispels all negative energies within the body. It clears, transforms and balances the energies in any environment and has strong protective qualities.
Candle Care:
Leave the wick no longer than 3mm above the surface. Try to gently break the burned part of the wick with your fingers before lighting.
Please note, soy wax is a natural product meaning that it can sometimes slightly change colours with time. This does not affect the burn of the candle in any way.
Don't burn the candle for more than 4 hours at a time.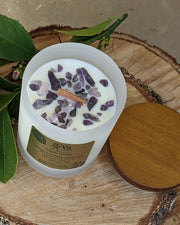 Lavender | Organic Soy Candle