50 Shades | Earthy Soy Candle
Sexy and alluring, 50 Shades is a powerful, seductive scent that will take over your senses in all of the right ways! A scent exclusive to Adarios, this masculine fragrance possesses sharp notes of bergamot and cedarwood, coupled with warm leather and musk base notes. A guaranteed mood-setter, this is one of our best sellers for a very good reason. Note: Pairs well with dimmed lights.
This candle is carefully hand-poured and hand-crafted with love and care in Adelaide, South Australia.

Sizes and Burn Time:
Large: 250g, up to 35 hours burn time.
Small: 130g, up to 24 hours burn time.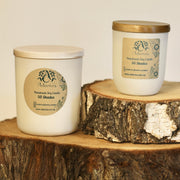 50 Shades | Earthy Soy Candle